Small Groups
Each ride at Chapman Valley has a maximum of 6 people per session, ensuring that your ride will be safe, intimate and personalised to your needs. Perfect for those looking for Horse Riding Sydney
Great Reputation
Just look at the reviews on our Trip Advisor page – ranked number one for Horse Riding in NSW! People travel from all over Australia to ride with us!
Top Quality Horses
You'll find only the best of the best at Chapman Valley – highly trained, responsive and willing to please horses who enjoy the rides just as much as you do! You will find some of the quietest and happiest horses in Australian amongst our ranks!
Amazing Scenery
One minute you're on top of a huge mountain overlooking the valley below, the next you're riding across large open paddocks with the breeze gently blowing across your face. Clean, crisp country air and the most beautiful and varied scenery will have you relaxed in no time.
Friendly Staff
The staff at Chapman Valley love being here just as much as you do! Our highly trained team love being asked questions and will be with you every step of the way to ensure you have the ride of your life!
Lots of Variety
Offering the largest range of trail rides in Australia, our trails range anywhere from a 1 hour family rides, to full days in the saddle. With more than 120kms worth of trails to explore you'll love every minute!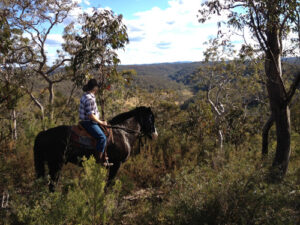 Horse Riding Sydney!
A cruisy 2 hour drive from Sydney, perfect for a day trip or combined with a weekend in the Hunter Valley. See what the real Australian bush is like, from the back of a horse!