Meet Our Horses
Our horses at CVHR are the life force behind the experience. Renown for being some of the happiest and healthiest trail riding horses in Australia you can enjoy your horse guilt-free, knowing that the horse beneath you is having just as much fun as you.
A few points:
Our horses don't work in temperatures above 37 degrees
Regular vet checks
RSPCA approved venue – we adopt horses so are prone to random spot checks by RSPCA & always pass with flying colours
No boredom here – our horses experience a variety of tasks, not only trail riding to ensure their minds are kept sharp & enthusiastic.
Scheduled workload – No horse works too often
Regular fitness regime – Regular exercise to ensure your horse is fit for the task
Now, without further ado, meet our horses:
Bundy
Bundy is a 14.2hh Australian Stock Horse Gelding, born in 2000. We have owned him since he was 3 years old. He is a very athletic and loving horse, and will be your best friend in an instant!
Pippa
Pippa is a 15.1hh Paint mare, born in 2007. She was one of our first additions when the trail riding begun, and is a real favourite with all of our beginner riders, loving cuddles and pats!
Roxanne
Roxy, our rock star! Born in 2003 and 14.3hh, one for beginners right up to the experienced rider, she is the adventurer's dream – a wonderfully fun and reliable mare!
Kate
Kate is at 14.3hh Australian Stock Horse mare, born in 2002. Previous to coming to us she was used a lot for cattle work, and really enjoys a long leisurely walk through the bush!
Melody
Melody is a 14.3hh Australian Stock Horse mare, born in 1998. She was also used extensively for cattle work and competed also in Campdrafting (doing quite well!).
Tiga
Tiga is 15.1hh and was born in 2000. He was a family horse up in Coffs Harbour before we brought him down to join our crew! Since then he has progressed in leaps and bounds, and is fast becoming one of our beginner's horses!
Xena
Our warrior! Born in 2006 and 15.1hh, Xena worked on a large cattle station before coming to us in 2013. A real trooper, Xena is well suited for people from beginners right up to those with previous riding experience.
Oreo
Oreo is 16.1hh Appaloosa Gelding, who was born in 2006. He's certainly an eye catcher when you first enter the yards, and is a big gentle giant!
Mouse
Mouse is our little Paint pocket rocket. Standing at 14hh, and born in 2009, he is remarkably quiet for his age. He is on lease at the moment but we hope to have him for a very long time as he is a real attribute to those learning to ride.
Toby
Toby is a stunning dark brown gelding, standing at 15.3hh. He is very affectionate horse, and loves to make his rider happy. He's done a little bit of everything throughout his life, from pony club to cattle work, and lots of trail rides!
Lukey
Lukey is the definition of the term, "gentle giant". This beautiful big boy was born in 2012, and currently stands at 16.3hh, but we don't think he's finished growing yet! He acts more like a puppy than a horse a lot of the time, wanting to follow you wherever you happen to be! He'll do anything for a cuddle!
Jerry
Jerry is a 15.3hh bay Standardbred gelding born in 2005. Like many other standardbreds, he has had some time on the racetrack doing harness racing, and has now retired here with us doing trail riding. He's the boss of the herd, so everything goes past him with the other horses!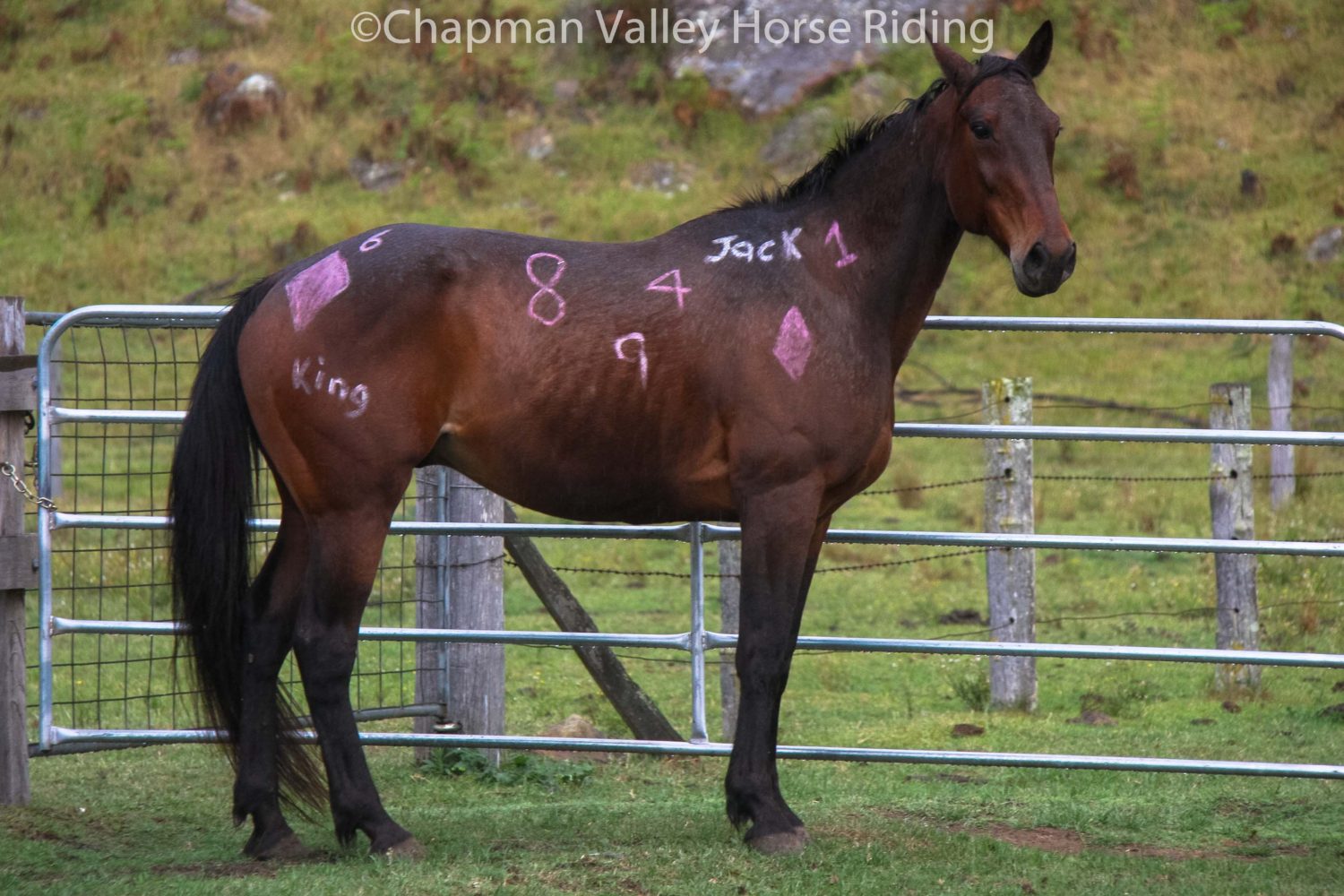 Ace
Ace is a 15.3hh dark bay Standardbred gelding, born in 2002. He is an incredibly sweet gelding, and is Jerry's right-hand-man. Ace has also done some harness racing, but he tells us he likes trail riding much more!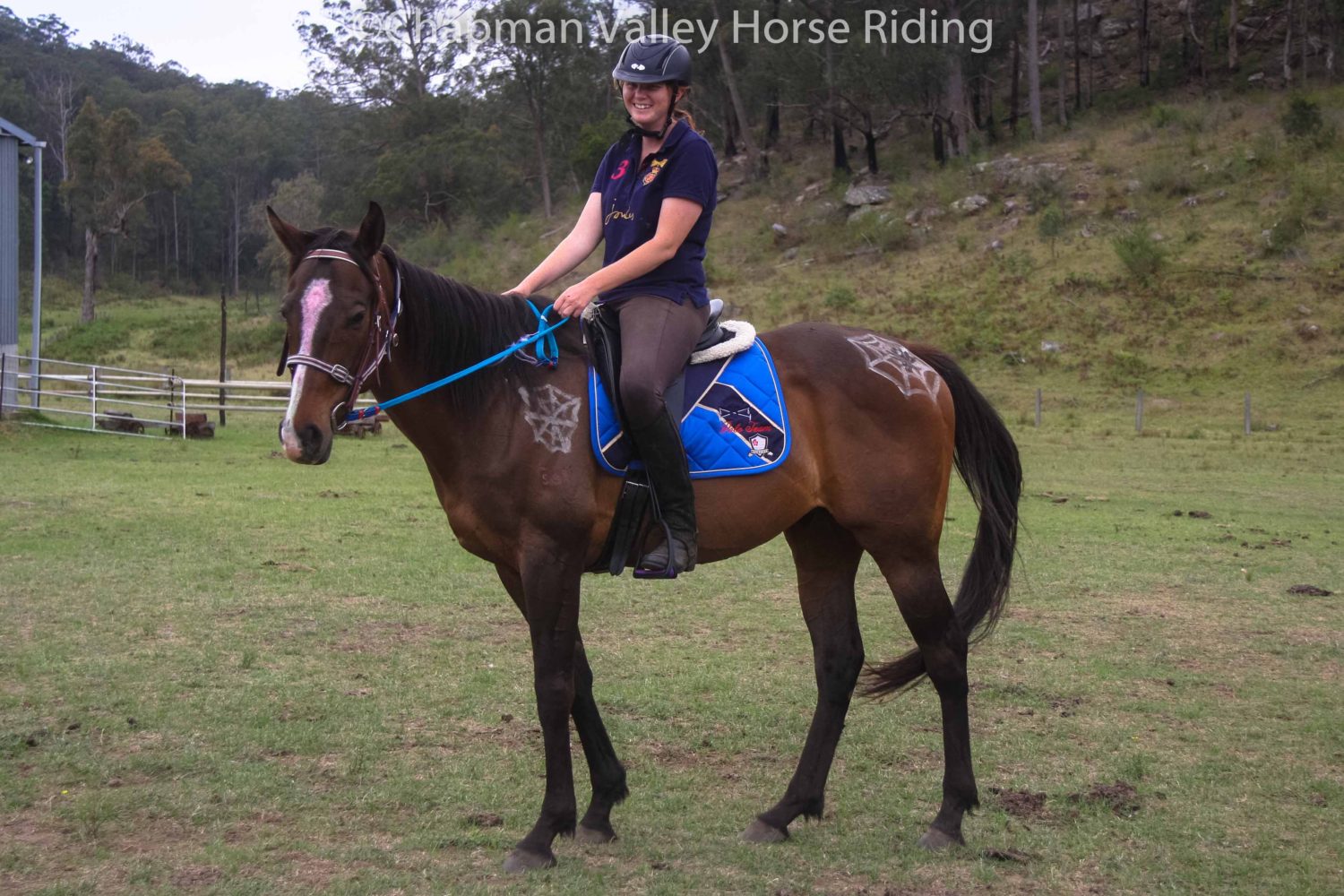 Tom
Tom is a bay 16hh Thoroughbred gelding – the only Thoroughbred we own! He was born in 2006, and after it became apparent that he didn't have the speed for the racetrack, he became a trail riding horse. It is much more to his laid back, relaxed speed!
Rosie
Rosie is a beautiful 15.3hh bay Clydesdale X Quarter Horse mare. This 'big mumma' has been used for breeding for the past 7 years, and has now joined the ranks at Chapman Valley to try her hoof at trail riding. A big strong mare, she is one very smart lady and very sweet!